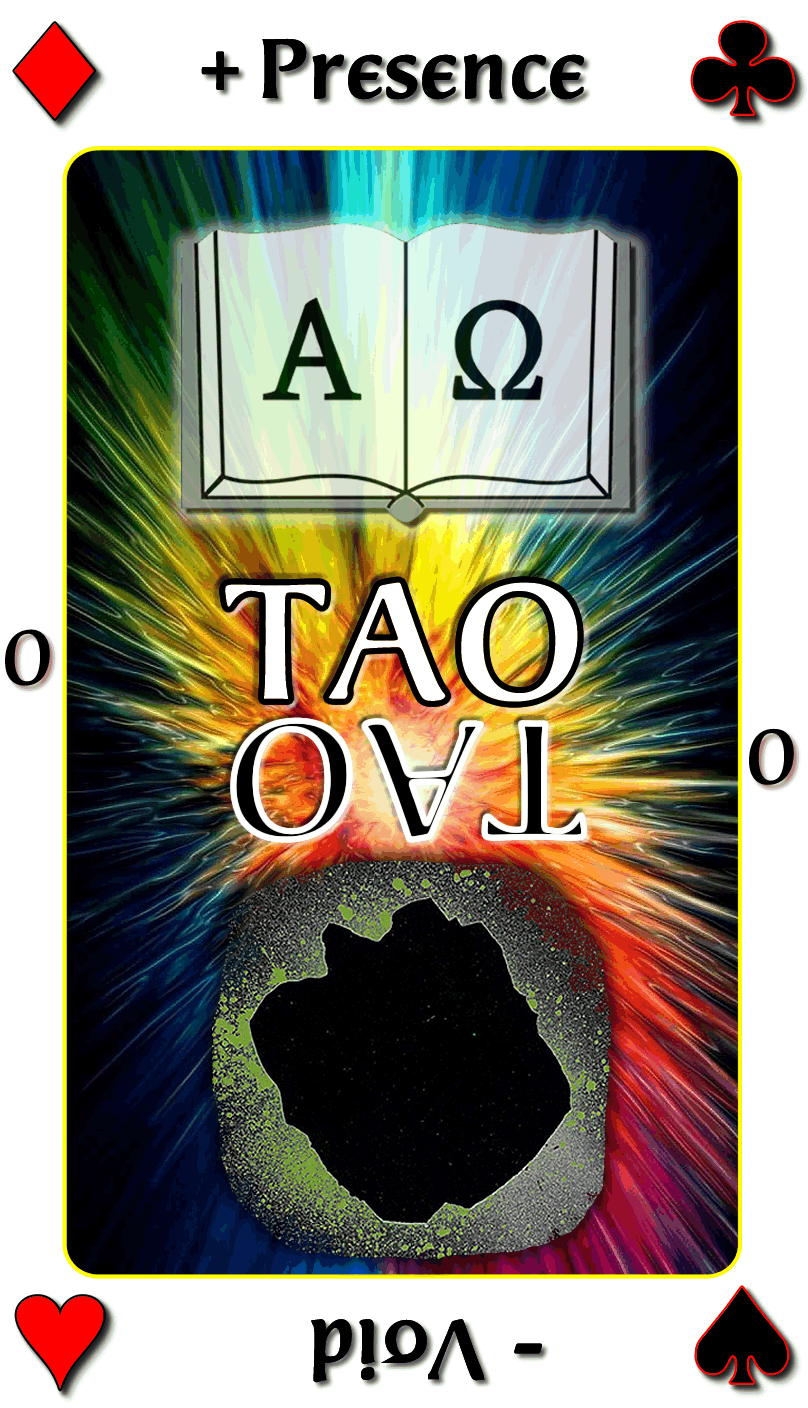 0-TAO
Card Context... TAO, the Universe, God (TUG), is that irrepressible inner drive. Often termed Spirit, it is trying to get through. It is the Original Motivation, not sin. Something profound calls!
Soul Evolution Stages:
Axes:
Scopes:
More than the sum of its parts!

---
+ Positive or Illuminated Pole
+ Presence
(Numinous, Infinity, Eternal, Universality, Logos, Perfection, Atman, Vastness, Nirvana, Oneness, Indivisible, holon, fountainhead, noosphere, morphgenetic field, source, namaste, axis mundi)
"You are of the Universe. You are made of God stuff and are connected to everything. Living in the Now, is to know this perfection. From this perspective can you understand that nothing you do is wrong! It all is TAO constructing interactions to have a multitude of experiences with itself."
"Nothing you do is wasted. God is the only judge! Get off of your own case or that of someone else."
"This is the state of perfect presence. Use whatever comes to mind. You are being guided."
The TAO is the source of all things regardless of its metaphysical attributes, divinity or mechanistic supremacy.
No matter if you believe in a "higher power" or not, act as if one is within you. Use it and be magnificent.
Sometimes we are not privy to "why." Things just are, until all is said and done. But just to let you know…things are on track!
Quotations that illustrate this idea:
"The more we understand individual things, the more we understand God." Spinoza
"I cannot imagine a God who rewards and punishes the objects of his creation and is but a reflection of human frailty." Albert Einstein
"Where love is, there God is also."  Mohandas Gandhi
"Fix reason firmly in her seat, and call to her tribunal every fact, every opinion. Question with boldness even the existence of a God; because, if there be one, he must more approve of the homage of reason, than that of blindfolded fear." Thomas Jefferson
---
– Negative or Shadow Pole
 – Void
(Nothingness, nihilism, oblivion,vacuum, nullification, )
The Void is what some experience as disconnection from God. Does you feel distant, uncaring or noncommittal? While nothing is wasted for the TAO, your awareness becomes numb and leaves little enjoyment of flavor or color in your life.
In the Void, no point of reference is available. Allow yourself to be even though it might feel extremely disconcerting. Those who experience total peace have Nirvana.
The Void is an absence of space-time. While it may feel disorienting, know that when you enter it, you are in touch with the creative force. Ask for what you want.
If you see nothing of synchronicity, fate, providence nor simple consequence, then you are a-voiding a great part of what is available. Look for the unseen. It still exists and is in play.
For God sake, get off of your own case or that of someone else.
Quotations that illustrate this idea:
"Prayer does not change God, but it changes him who prays." Soren Kierkegaard
"God hath given you one face, and you make yourselves another." William Shakespeare
"God is a thought who makes crooked all that is straight." Friedrich Nietzsche
"What terrible fear causes Man to address the Void as Thou?"~ Edna St. Vincent Millay
"The life of a creator is not the only life nor perhaps the most interesting which a man leads. There is a time for play and a time for work, a time for creation and a time for lying fallow. And there is a time, glorious too in its own way, when one scarcely exists, when one is a complete void. I mean / when boredom seems the very stuff of life." Henry Miller
---
Relevance in The Michael Teaching
In the Michael Teaching, TAO is only 5% portion of the totality of all that is, in the
Universe. The TAO is both the WAY (or innate process) but it is also the source material for souls. For those familiar with Talmudic Judaism might know of the Guf, the place where souls are created and housed until placed in a body. When a "spark" takes flight from the totality that is the source of all things, individuality is its desired path of exploration. It is the Original Motivation, not sin. But the byproduct of separation from total unity, total love, total involvement that is TAO, may result in sense of isolation as much as it was invested in pursuing Selfhood. Paradoxically perhaps, a dual motivation emerges, for the Soul to once again reunite with the Creator; the TAO itself. The progression of steps or the journey of the soul, if you prefer, is to advance through all the stages of awareness that are otherwise surrendered when becoming an unique expression of the TAO. The two cosmological processes described in the Michael Teaching regarding this passage are the Planes of Existence and Soul Age Evolution. As an Essence spark (soul) moves through these cycles, it gathers experiences of power, love, betrayal, friendship, manifestation, being in a body, and all of the sensations and stations of existence that attend that condition. Here the TAO imbues the new Essence with one of its seven ray characteristics that are designated as the Roles.
Commentary
I feel the TUG of something larger, more spacious, indefinable an unending vastness that teases my senses but cannot grasp. My estimation of living, that interconnected series of events so persistent to which the word, life – my life, is the only placeholder that readily fits that composition. The TUG has been the force, the way, the carrot, the stick, the ever present background of my perceptions. TAO – Universe – GOD (TUG) is omnipresent and requires nothing from us, since it began, remains, and forever will be no-thing. Yet, TUG is the perfect sentence. God as subject creator, TAO as verb – the way and process, and the Universe – the object and output of the two prior. We then, as a part of a dynamic universe, represent the "testing agents" to the durability and variability of this design. It is present in my brain, the generator of this consciousness, but not its originator. The TUG is within me, therefore, all these aspects comprise the Soloverse of who I AM. These descriptors may certainly be understood as the attempt of one organism to organize the vastness of the nearly uncountable array of experiences. meanings, objects, and relationships that comprise that subject specific alchemy which one might call Self. Divinity of source is irrelevant to only but the Ego. Insecurity about our place in the Universe and the safety to exist without fear creates an imbalance which gives need to formulate a band-aid to compensate for the fear. A fear that when put into words might be verbalized as "I am not good enough, worthy enough, strong enough, as I AM." The resulting fix to an inferior sense of Self is a Superior representation: GOD the Perfect. So creation begins. But sanctification of ones own existence requires something "better than" me. The nature of God gets marked as inscrutable yet with some terrific irony, human beings seem to add whatever qualities or acts that they deem fit to God. Does anyone wonder why those who claim to act with God's sanction often carry out acts of horrible brutality motivated by a sacramental justification for their hatred? To be cute, remember: the pious have bias!…and usually against forgiveness!
 Archetype and its Cultural Significance
Eastern and Western cultures alike, whether they recognize one God or many, or none at all, cannot deny the presence of a Universe so vast as to only be glimpsed through the lenses of most sensitive telescopes. Divinity is often ascribed inferring perfection so complete as to render unerring infallibility. Unlike Taoism of China, the term TAO is used to signify a noun as well as the attribution "The Way". The TAO is the Masculine and Feminine.
How to detect the Presence of TAO
All Essences, having been spawn or "cast" from the TAO are hence of its make-up. As a Universe of One, or Soloverse™, your individual space possesses a microcosm of all that is. However, the path of Soul Evolution may have rendered awareness of that greater truth invisible to your waking personality. When all your attention is completely fixed, because of total fascination which engrosses all sensory input on the event at hand or totally captures it in moments of terror, at those moments the TAO is present with you. by Stephen Cocconi © 2011
---
For Michael Channeling or Michael Tarot Card Reading: in-person or phone session:
Call: Stephen Cocconi – 209.768.4956