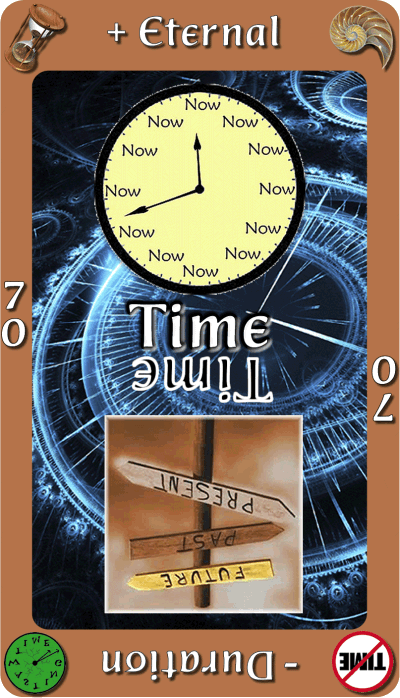 70 Time
Context of Card... Concerns the use of your time and the quality with which you spend it.
Character Augments:
Scopes:
"Time (and tide) waits for no man…"
---
Card messages in the Illuminated position:

+Episode



+Eternal, now, period, season, presence, attention, existence
'Time flies when you are having fun.' But it seems to crawl when you are doing something you resist. Get into whatever you are doing knowing that it is part of the time of your life. Find a way to enjoy it!
Time is of the essence. Pay attention to how is unfolds.
Best to live in the present moment for future will be here in no time. Use today to shape tomorrow.
"Live in the Now. Can you understand that nothing you do is wrong! God is the only judge!"
Quotes signifying the Overleaf in this pole
For everything there is a season, and a time for every matter under heaven: a time to be born, and a time to die; a time to plant, and a time to pluck up what is planted; a time to kill, and a time to heal; a time to break down, and a time to build up; a time to weep, and a time to laugh; a time to mourn, and a time to dance; a time to cast away stones, and a time to gather stones together; a time to embrace, and a time to refrain from embracing; … Ecclesiastes 3:1-22
Carpe Diem – Seize the Day!
Card messages in the

Shadow

 position:

-Erasure
–Increments, chronology, languish
Make your time count for something.
Stop wasting your time! While you are killing time, it is doing to same to you in return.
Have you felt over committed of your time? Clear you calendar for at least the rest of the day. Shy of that, take a moment to get back into your body.
---
Relevance in the Michael Teaching
Is time an illusion? If so, it is a very persistent one. At the very least, it is an intellectual concept facilitating our ordering and comparison of events.  The metrics of time as measured in seconds, minutes, hours, days, weeks, months, years, decades, centuries, millennia, etc in their own right share a dimension of human perception we call a moment.
The Michael Teaching shares with many of the "new age" or spiritual teachings that time does not exist per'se. Einstein lent mathematical credence in this General Theory of Relativity. Without time our existence here on earth would lack a sense of progress. Only with the idea of advancement do we have language available to us to sort and contrast the multiplicity of inputs we receive from our environment.
Being young or feeling old each are references to the passing of stages in our lives and perceptual reactions to those states.
Cultural Meaning
For the scientist, time is the fourth dimension. As real and usable as its other spatial compatriots of height, width, and depth.
Session, event, period, season, career, aging, lifetime, are all subjective measures of time. They exist because we frame a set of experiences with common factors within their borders.