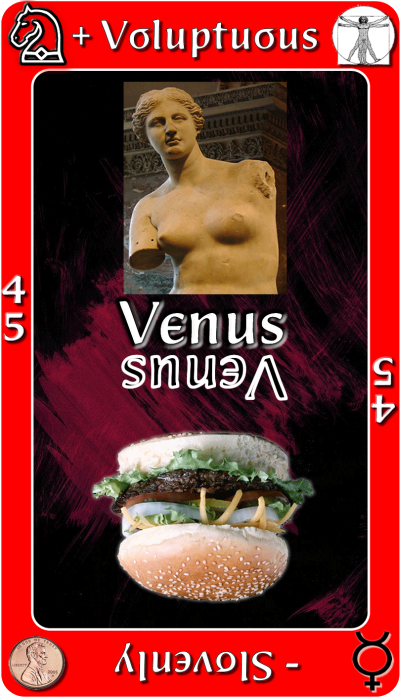 45 Venus
What this card means... What is the actual condition of things? Are things as they appear?
Overleaves:
Axes:
Scopes:
"Why don't you come up and see me sometime."
---
Card messages in the Illuminated position.
+ Voluptuous
(sensual, swarthy, curvaceous, zaftig)
Whatever you see right now looks particularly yummy. Voluptuous! Get comfy and snuggle in.
There is no finer beauty than that which radiates from sensuality and animal magnetism.
Whenever one looks in the mirror, and can see beauty without vanity, then one becomes the light around which all things are illumined.  Radiate the beautiful nature inside you.
Quotation Illustrating this concept…
---
Card messages in the Shadow position.
– Sloppy
(Slovenly, morose, obese, disgruntle)
Taking things for granted leads one to become sloppy. The ensuing disorder is in no way attractive. Where are you being inattentive? Are you leaving a big mess to clean-up?
Beauty is said to be fleeting. This is true if you classify it in appearance only.
No amount of make-up covers the kind of disgust associated with unkempt sloppiness.
Quotation Illustrating this concept…
---
Relevance in the Michael Teaching
When it comes to sex appeal, there is no more tantalizing a body than the olive skinned, dark haired lusciousness of a Venusian Body Type. But it is the Warriors body built to be malleable and adaptable.
---
Famous Examples
Elizabeth Taylor, Pacific Islanders, Mae West (+lunar +jupiter), Tom Selleck (+saturn),
---
Cultural Significance
What is considered sexy and what is considered slovenly are often so close as to put a fine line between beauty and the beast. Indeed, one might say that this comparison serves to remind us how perception and distortion of it in the "eye of the beholder" shifts our attention with a simple belief.  Standards meant to inform or categorize easily morph into stereotypes and definitions of character.
by Stephen Cocconi © 2012
---
For a Tarot Session or Channeled Consultation call: 209.768-4956 or email Stephen at channeling@themichaelteaching.com